The IBC2013 exhibition officially started today and ViSTA-TV booth (Future Zone, 8.G39) attracted quite a lot of interest. The curious visitors came by to learn about the tools we have developed.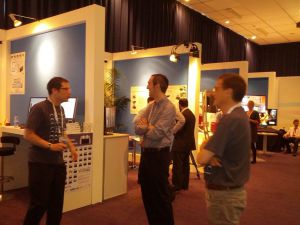 We had visits from companies like ESPN, Ericsson and Cisco who are looking to solve similar problems and hence interested in our solutions and possible collaborations. ViSTA-TV was of particular interest to broadcasters, cable TV providers, program metadata providers and researchers.
We thank everyone who stopped by for your valuable feedback and informative discussions. We look forward to hearing from you in the near future. See you tomorrow!