Earlier this week, ViSTA-TV presented a demonstration paper at RecSys 2013, the world-leading conference on Recommender Systems.
The paper, titled "Design and Evaluation of a Client-side Recommender System", concerns the BBC's client-side recommender engine and two applications that use it. The recommender engine is a Javascript implementation of a classical Weighted Item-based k-NN algorithm and uses a downloaded collaborative filtering model. This model is created using audience viewing data obtained from the system that provides live data streams for the ViSTA-TV stream processing engine. Currently the model is trained periodically using the MyMediaLite Recommender System library but will be based on the recommendations work in ViSTA-TV when this is completed. The engine and training tools have been released as an open source project.
The development of the first application, the Sibyl Recommender, started before ViSTA-TV. Sibyl is a TV and radio programme recommender system designed for tablets and personal computers which uses a novel drag-and-drop system to elicit user preferences.
Users are presented with a scrollable list of programme recommendations which they can filter by genre and media type. A user is able to express preferences by dragging individual programmes into "like" and "dislike" boxes positioned below. These preferences are immediately used by the client-side recommender to re-rank the programmes and refresh the recommendation list. You can try Sibyl Recommender online and give us feedback via the associated questionnaire: http://sibyl.prototyping.bbc.co.uk/
The second application, called "Infinite Trailers" was developed within the ViSTA-TV project and provides a continuous sequence of programme clips.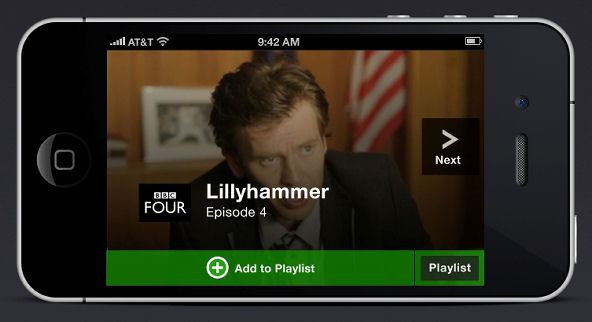 The user can either skip each clip or add the programme shown to their playlist for later consumption. These two user actions are interpreted as negative and positive user feedback respectively. The recommender uses this user feedback to update the ranking of the clips and select the next clip to be presented. Unfortunately, this application cannot be made available online due to rights issues.
The demonstration attracted interest primarily from conference delegates involved in the television and media industries. However, some universities were also interested in using the engine with their own training algorithms or for developing alternative user interfaces for recommender systems.
One keen subject of discussion was the ability to browse the raw data and correlation values behind the nearest neighbor model. This provides editorial staff with an explanation for the recommendations and gives them confidence that the system is working correctly. The structure of the nearest neighbor model also means that it can easily be modified to reflect editorial concerns where these arise.
For more information about any of the work described here please contact Chris Newell and Libby Miller.
Poster from the ViSTA-TV RecSys 2013 demonstration